January
The visitor experience at the Rancho Nipomo Dana Adobe Historic Park will soon expand. The County Board of Supervisors approved plans for the construction of a visitor's center, outdoor amphitheater and Chumash interpretive area on the on the 130-acre site. In a unanimous vote the Board certified the finial EIR and adopted the updated land use ordinance for the project.
The City of Pismo Beach rang in the New Year as official owners of the Chapman Estate located at 1243 Ocean Blvd. in Shell Beach. The stunning bluff-top property includes a four-bedroom home and interior contents, a working windmill, pool, lighthouse, guest cottages, fountains, and gardens. Clifford Chapman purchased the property in 1962 and upon his death in 2012 he willed the $12 million, 1.5-acre estate to the City.
After multiple meetings and discussions throughout 2013, the Arroyo Grande City Council voted 4-1 in favor of placing a measure on the Nov. 4 ballot asking voters to approve converting to a charter city.
A Sheriff's Department Search and Recovery operation underway for seven days continues with personnel searching for answers and wreckage following a plane that crashed into the ocean.
February
After some debate, consumers can continue to purchase farm-fresh produce and a variety of prepared foods and crafts on Saturday mornings in the Village of Arroyo Grande. The City Council unanimously approved a conditional use permit for the farmers' market to operate where it has for more than 30 years. The market has taken place in the parking area of Olohan Alley between Short and South Mason streets since the 1980s, but last year, staff realized that it had never been formerly entitled to do so.
County officials confirmed someone at Ocean View Elementary School in Arroyo Grande was diagnosed with the H1N1 virus. Due to confidentiality, information has not been released whether it was a student or a member of the staff.
Property owners in Grover Beach, Arroyo Grande and Oceano will decide the fate of additional funding for the Five Cities Fire Authority. On Friday, vote-by-mail ballots will be sent out to parcel owners asking them to approve forming a benefit assessment district. Property-owners of single-family residences would pay $66 annually no matter the property value.
Plans to convert the Mesa Dunes Mobile Home Estates in Arroyo Grande from a rental-only park to a resident-owned park have come to a halt, for now. The San Luis Obispo Board of Supervisors backed a decision by the Department of Planning and Building and denied an appeal by the park's owners citing an incomplete application.
A jail isn't a typical focal point of a park, but a group of community members and organizations are backing a revamp project featuring an early 1900s hoosegow in the Village of Arroyo Grande. The Arroyo Grande City Council recently voted unanimously in favor of a conceptual plan for renovations at Hoosegow Park, which staff says is "underutilized and poorly designed."
Pismo Beach is asking citizens to watch their water-use. The City Council voted to initiate moderately restricted water supply conditions and increase enforcement practices. Historically, Pismo Beach gets about 19 inches per year of rainfall. In 2013, the driest year on record, total rainfall was 4.13 inches, which is only slightly above the historical average for the month of December.
After several years of anticipation, the City of Arroyo Grande will provide funding for the purchase of property intended for transitional or low-income housing. The City Council gave unanimous support for an agreement with the Housing Authority of the City of San Luis Obispo (HASLO) for the acquisition of property at 224 S. Halcyon Road. Project plans came to a halt after the California Supreme Court upheld a law abolishing the state's redevelopment agencies (RDA) in 2011. RDA funding was used in part to promote economic development and housing programs.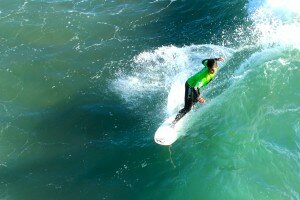 Pismo Beach Police Chief Jeffrey Norton announced that he would retire effective July 29 4after more than 30 years in law enforcement. Norton has led the Pismo Beach Police Department since 2009. In that position he directed a staff of 34, including 23 sworn officers, managed a budget of more than $5 million, and retained the department's nationally accredited status for 9 years.
Doubling oil production in Price Canyon was the topic of debate during a public meeting held at the South County Regional Center. Freeport McMoRan Oil & Gas wants to increase crude oil production at the 1,480-acre Arroyo Grande Oil Field northeast of the City of Pismo Beach from 5,000 to 10,000 barrels daily. The increase in production would require eight new well pads and modification of 33 existing pads to provide for up to 450 new oils, 100 of which would be replacement wells. The oil company said it plans to build 45 new wells per year over a 10-year period.
March
More than 130 students representing 13 middle schools from four counties converged on the Arroyo Grande High School (AGHS) campus on Saturday to test their academic skills during the Central Coast Regional Middle School Science Bowl. The 26 teams competed in a fast-paced question-and-answer tournament designed to test students' knowledge in biology, chemistry, physics, mathematics, astronomy, earth science and general science. In the end, the five-member team from Norris Middle School in Bakersfield walked away victorious.
Sheriff's Underwater Search and Recovery Team divers found what they believed is the wreckage of a small plane that crashed Jan. 14 into the ocean off Oceano killing the pilot and a passenger. The Federal Aviation Administration identified the pilot as David Casey of Friday Harbor, Wash., and the passenger was later confirmed to be Alan Gaynor of Los Angeles.
At the request of numerous residents, the Arroyo Grande Planning Commission began the process of making home vacation rental regulations a part of the City's municipal rule book. Currently, the City does not have official guidelines for property owners looking to trade space for cash. The ordinance would address permit, business license and transient occupancy tax (TOT) requirements, neighbor notification of operation intent, restrictions on the number of guests per room and the accessibility of a local contact person should complaints arise.
Central Coast New Tech High School (CCNTH) in Nipomo is feeling growing pains of a sort. Two years ago, the school bell rang for the first time and ushered in about 100 freshman students. Come September, a little more than 300 9th through 11th graders are expected to enroll and more classrooms are needed. The Lucia Mar Unified School District Board of Trustees recently approved the addition of two modular classrooms with a restroom that will be set up for science as well as absorb two portable classrooms already on the NHS campus. The $800,000 cost will be allocated from developer fees.
Efforts to turn a 900-acre private ranch into public space got a boost earlier this month, but time is running out to meet a dollar-to-dollar fundraising challenge to help create the proposed Pismo Preserve. PB Coast Views LLC owns the property, and The Land Conservancy of San Luis Obispo wants to purchase the land that runs along the hillside behind Pismo Beach City Hall to Price Canyon Road. IT comes with a $11.7 price tag. The Land Conservancy is working to get about $8 million from state agencies and $2 million from local government.
A hotel project in the heart of downtown Pismo Beach didn't muster full support from the Planning Commission after three hours of deliberation. Discussions were continued to a public workshop. As proposed, The Inn @ the Pier would include a 108-room hotel, a convention room, retail space, an outdoor dining area, roof-top pool, fitness center and underground parking garage on the 1.2-acre dirt lot bounded by Cypress Street, Pomeroy Avenue, Hinds Avenue and the Pismo Beach Pier parking lot.
Registered sex offenders looking to take up residency in Grover Beach will have very few options. Last week the City Council voted 4-1 to approve doubling the distance of restricted zones to 2,000 feet. Under the new restrictions, residency would be limited to a few small parts of the city in the southwestern, northeaster and northwester corners.
Businesses large and small, brick-and-mortar and online alike are all vying for the consumer's dollar and the City of Arroyo Grande doesn't want local businesses to go unnoticed. The City Council backed a "shop local" campaign that would help the profit margins of business owners and increase city revenues as well.
April
The dust may have finally settled on a controversial ruling intended to reduce dust emissions originating from the Oceano Dunes State Vehicle Recreation Area on the Nipomo Mesa that pitted California State Parks against the San Luis Obispo Air Pollution Control District (APCD). Last week, the APCD board and California State Parks agreed to jointly petition the Court of Appeal to approve a so-called consent decree and dismiss all appeals in the pending litigation related to implementation of "Dust" Rule 1001.
After a $715,000 surprise, a "disappointed" Arroyo Grande City Council unanimously voted to reject all bids received in the uphill battle to upgrade the police station and begin the process anew. After several go-rounds in November of 2013 the council had approved renovation, relocation and funding plans. In February, the police department set up temporary digs in the Arroyo Grande and Women's Club Community Center with dispatch servicing being moved to the San Luis Obispo County Sheriff's Office.
What is today an empty 33-acre parcel of property in Nipomo will soon be filled with the sounds of children laughing and playing outside with family and friends—for some, this kind of participation has been a lifelong challenge. With long-awaited permits in hand, groundbreaking ceremonies were held for Jack Ready Imagination Park—the county's first universally-accessible park designed so that all children, regardless of physical limitation, will be able to play side by side.
A symbolic groundbreaking ceremony kicked off the Lucia Mar Unified School District's (LMUSD) energy efficiency and solar power project. After about two years of planning and discussion, last September, Chevron Energy Solutions and LMUSD entered into an agreement that will generate clean energy, save money and provide budget predictability. The solar photovoltaic equipment is projected to offset about 80 percent of the electrical usage at each site.
The Pismo Beach Planning Commission weighed in on conceptual plans for a new development on Shell Beach Road that would see the demolishing of a decades old building. The applicant, Isaman Design, proposes to demolish the Cape Cod Hotel on Shell Beach Road between Santa Fe and Castaic avenues and build a new mixed-use development featuring four commercial-retail spaces and four second story two-bedroom, two-bath residential units.
After about three months of agenda jumping, consideration of previously approved coastal development permits for the proposed Grover Beach Lodge and Conference Center were unanimously given the green light by the City Council.
A little more than five months after being hit with a lawsuit challenging the practice of prayer at the start of its meetings, the Pismo Beach City Council voted 3-0 to cancel the invocations. The group Freedom From Religion Foundation (FFRF) and Pismo Beach resident Dr. Sari Dworkin of Atheists United of San Luis Obispo filed the complaint in Superior Court. The suit charged that the invocations promote Christianity and thus violate civil rights. The City will pay the plaintiffs nominal damages and attorney fees totaling about $47,500.
Voters did not approve a parcel assessment that would have boosted the Five Cities Fire Authority operating budget. The final ballots were counted last Friday with 40.3 percent of property owners voting in favor and 59.6 voting against the measure.
May
The County's first cross-agency emergency dispatch service consolidation was resoundingly approved last week. The San Luis Obispo County Sheriff's Office will provide 911 services for the Arroyo Grande Police Department (AGPD), which officials say will provide increased services, improve multi-agency communication and reduce costs.
It was about three decades ago when what was then Grover City became the beneficiary of a piece of property that was to be used as a park. Today it remains a vacant lot, but change is on its way. Community philanthropist Clifford Clark offered to donate $7,000 to fund a pocket park at the entrance to the property.
Last week, the Grover Beach Parks, Recreation and Beautification Commission gave the initial green light to the project.
Government can be a complex endeavor balancing the needs of a community while existing within the parameters of federal mandates. Combing through the history of our Nation's bureaucracy one would be hard pressed to come across a quote similar to the one uttered at the Pismo Beach City Council meeting last week. "We have several goats in the City right now that are raised for the purpose of surfing," said Community Development Director Jon Biggs. The surfing goats, nanny goat Goatee and her two kids Pismo and Grover, and their owner Dana McGregor were once again in the media spotlight up and down the state after the City Council voted 4-1 in favor of allowing the animals to be raised within city limits as well as to stroll though public parks, on leashes of course.
June
Official rules will soon be on the books regarding vacation rentals and the increasingly popular homestays within the City of Arroyo Grande. The City Council unanimously approved an ordinance updating municipal codes to include regulating residential getaways. The regulations would apply to traditional vacation rentals 30 days or less. Similarly, "homestays," where a room or two is rented out short-term in an owner-occupied home, would also have to adhere to permit, business license, and transient occupancy tax (TOT) policies.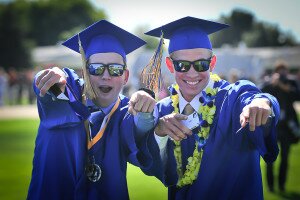 Nearly one year after its creation, the Arroyo Grande Tourism Business Improvement District (AGTBID) has been deemed a success and given unanimous approval by the City Council to continue operations. The AGTBID levied a 2 percent assessment on all lodging charges to go toward tourism efforts to attract more hotel stays in the city.
The fate of development in Price Canyon could be decided by voters this November. Enough signatures were collected by group of citizens to place an initiative on the ballot amending the city's general plan as it pertains to the area.
Price Canyon is within the city's sphere of influence, or expected area of growth, but outside the city limits meaning the land would have to be annexed from the county.
In an effort to avoid a lawsuit that has been successful in other communities throughout the state, the Arroyo Grande City Council voted 4-0 to repeal an existing municipal code relating to proximity restrictions to children's facilities for registered sex offenders. In 2010, the Council approved proximity laws prohibiting registered sex offenders from being within 300 ft. of certain children's facilities primarily schools, parks and daycare centers.
Embracing the theme of "Classic California Beach Town," the Pismo Beach City Council recently approved a vision for its downtown core. With a nod to the past, a look to the future and an eye on economic opportunities, the strategic plan will serve as the direction the City will move toward over the next decade. The plan addresses the pier plaza, parking, city branding and creating individual districts, among other items.
After more than three decades under the same ownership, one of South County's favorite watering holes has a new owner—one with a long history in Pismo Beach.
Harry's Night Club & Beach Bar has changed hands, but don't expect it to lose the vibe that has made it a favored haunt for so many years.
"It's a melting pot," managing partner Mike Frey said. "Harry's is about rock-n-roll, it's about fun. It's a beach bar. It is a great place to come visit with your friends, dance, enjoy the music and have your favorite drink."
The Five Cities Fire Authority has a new addition to its fleet thanks to a grant from Momentous Insurance Brokerage and Fireman's Fund Insurance Company. FCFA received $29,833 in funding to purchase a command vehicle replacing their existing one which interim Fire Chief Riki Heath said is outdated and should have been replaced two years ago. The 2014 Dodge Ram pickup is the first new command vehicle the department has had in 10 years.
Facing ongoing drought within in city limits, the Grover Beach City Council approved the implementation of mandatory water conservation measures. The rainfall was about 33 percent of benchmark, and storage behind Lopez Dam is about 56 percent or capacity as of March. The Stage III declaration will also allow the City to impose penalties for failure to comply with water reduction or use prohibitions.
July
After about two years of discussion, community input and public outreach, the Arroyo Grande City Council unanimously approved asking voters in the November election to determine the fate of converting to a charter city.
Voters in Grover Beach will be asked to support a bond measure to perform citywide street repairs that have long plagued the community. During a special meeting last Wednesday, the City Council voted 4-1 to move forward with placing a $48 million bond measure on the November ballot in order to do more than patch the problem.
With one major event under the City's belt as owners of the Chapman Estate, the Pismo Beach Planning Commission gave the green light approving a conditional-use permit (CUP) for continued events.
Arroyo Grande residents will see an increase in their water bills over the next five years. The City Council recently approved a restructuring of rates to keep reserves in check with projected debt service and future projects.
The paintbrushes have been put away, the scaffolding is gone, the caution tape has been removed and the rest, as they say, is history. Arroyo Grande's massive public art project reflecting the historical and cultural past of the community is complete.
After a little more than two months of work, artist Coleen Mitchell-Veyna finished work on the mural covering the east-facing wall of the former JJ's Market building at 303 E. Branch Street. The mural is a visual narrative of the city's rich agricultural history.
The Central Coast is an agri-topia of sorts with verdant fields yielding a diverse supply of fruits and vegetables year round, yet the majority of people purchase produce that has often been trucked thousands of miles to a grocery store. Two years ago, Talley Farms planted the seeds for Fresh Harvest, a CSA (Community Supported Agriculture) program that makes farm-picked local, fresh and seasonal produce a part of the daily diet. Today there are more than 2,800 subscribers, who receive a bounty of fruits, vegetable and occasionally dry beans or other surprises conveniently packed in one box.
A local children's museum closed its doors following the arrest of an employee who faces felony charges of fraud and embezzlement. Following an investigation, Stacy Halvorsen, 40 of Arroyo Grande, turned herself in on July 5. She was booked on suspicion of two counts of forgery and one count of embezzlement. Investigators then submitted the case to the County District Attorney's Office.
Surrounded by a cacophony of gunfire, screaming and blaring alarms, four armed police officers clustered in formation entered the administration building at Arroyo Grande High School in search of a gunman. The scene was part of a rigorous tactical training to better prepare Arroyo Grande police officers for the threat of an active shooter.
August
A familiar face is at the helm of the Pismo Beach Police Department. After 20 years with the department, Jake Miller officially took over as chief on Aug. 1. He replaces Jeff Norton who retired after 30 years in Law Enforcement.
Following multiple meetings, public workshops and a tweaking of design elements, a new lodging, retail combo venture in Pismo Beach is on the right path. The Planning Commission recently gave resounding support for the proposed The Inn @ Pismo Pier project. The three-story structure will be constructed on what is now the dirt lot across from the pier.
Jim Copsey, who has served dual roles as the police chief and the assistant city manager for Grover Beach, plans to retire in December. Copsey has 27 years in law enforcement, the last 10 of which have been as chief of the Grover Beach Police Department. In November of 2013, he took on the role of assistant city manager following a stint filling in for City Manager Bob Perrault, who took a leave of absence due to illness. Copsey says he will miss the daily interaction with the community.
The Pismo Beach Planning Commission unanimously approved permits for a mixed-use project at the site of the former Marina Realty building at 1677 Shell Beach Rd. The project would demolish the existing office buildings and storage sheds to make way for construction of a new two-story building with commercial space and two residential units totaling as well as a 300 square-foot deck addition. The deck would allow for outdoor seating for the existing Steaming Bean coffeehouse located next door merging the property lines.
A deal designed to create harmony between two sides of a controversial issue surrounding one of the county's biggest moneymakers was shot down last week. The Second Appellate District Court in Ventura rejected the consent decree proposed by the county's Air Pollution Control Board (APCD) and State Parks intended to resolve what could become costly litigation.
An attorney hired by the City of Arroyo Grande to investigate an alleged after hours tryst extra-marital affair between two City employees, says claims of inappropriate behavior are unwarranted. On July 3, police found City Manager Steve Adams and Community Development Director Teresa McClish in City Hall in a questionable situation. Attorney Michael McMahon, with the firm Carmel & Naccasha, which contracts with the City for legal services, began looking into the incident a few days after it was reported.
A new hotel, retail combo project in Pismo Beach that was called a homerun could become a swing and a miss. Two residents appealed the Inn @ Pismo Pier project approved by the planning commission
September
For nearly four decades, a volunteer-driven organization has been helping to provide hot, nutritious meals to local people in need. Five Cities Meals on Wheels (5CMOW) is a local non-profit meal delivery service that provides hot, well-balanced meals Monday through Friday to between 85 and 100 folks of all ages and economic levels in the Five Cities area who are homebound or recuperating.
History is in the making for the City of Pismo Beach. Construction on the long-awaited historical park honoring the city's founder, John Price, is set to begin after years of planning. About 50 City dignitaries, park volunteers and community members attended groundbreaking ceremonies for the initial phase of the Price Historical Park.
About 30 Oceano Elementary School students shared their artistic talents last week to help the local homeless population. The students, along with adult volunteers, decorated ceramic bowls at the Oceano Library as part of the upcoming 5Cities Homeless Coalition's Empty Bowls fundraising event.
The Land Conservancy of San Luis Obispo County is ready to sign on the dotted line to purchase a $12 million dollar piece of property with an equally valuable view in Pismo Beach. Last week, the state Wildlife Conservation Board approved the final $4 million needed to purchase the 900-acre ranch known as the Pismo Preserve.
After more than 40 years, Coastal Christian School finally has a place to call home. On Tuesday, the K-12 school opened its doors to nearly 200 students at its new campus located at 1005 N. Oak Park Blvd. in Pismo Beach.
In the midst of one of the worst droughts in state history, water conservation is on the minds of almost every resident in the area, and when the City of Arroyo Grande dumped about 35,000 gallons of water during maintenance of one of its water tanks, it raised questions. The 250,000-gallon potable water tank on Stagecoach Road had not been worked on since it was built in 1978. More than 200,000 gallons of the contained water was released into the city's distribution system from an outlet about 2-feet up on the side of the tank. The remaining 35,000 was released into a storm drain—a common practice among water purveyors during necessary maintenance, but one the City admits should have been reconsidered.
The City of Grover Beach will install surveillance cameras at one of its parks to deal with what police have said is an increasing problem with vagrancy.
Last week in a unanimous vote the City Council approved the installation of multiple cameras at Ramona Garden Park. In 2013, police responded to 487 incidents involving homeless people at the popular park. The majority of arrests were for public intoxication, trespassing and outstanding warrants and disturbances.
An independent investigation into the July 3 incident between City Manager Steve Adams and Community Development Director Teresa McClish will move forward. During an atypical Saturday closed-session meeting, the Arroyo Grande City Council agreed that a new investigation was in order.
October
Jim Hill, a longtime South County resident and former Oceano Community Services District president, filed papers Friday to become a write-in candidate for mayor challenging Arroyo Grande mayor Tony Ferrara. Hill said he is challenging Ferrara who has come under fire for his handling of a controversial matter involving two city employees, which resulted in a unanimous vote of no confidence by the Arroyo Grande Police Officers Association.
About 15 minutes into last week's Arroyo Grande City Council meeting, Mayor Tony Ferrara called for public comments and a large group stood at once to the applause of others. The council chambers were packed, but it was the Arroyo Grande Police Officers' Association (POA) that stood united in their dissatisfaction with the handling of a controversial July 3 incident involving City Manager Steve Adams and a subordinate, Community Development Director Teresa McClish.
Folks will soon be able to enjoy a little wine while shopping for produce in Arroyo Grande. The City Council recently raised their glasses in support of adding wine tastings at farmers' markets. Although the county has a booming wine industry, squeezing the melons while drinking the fermented grapes wasn't legal until July of this year when Gov. Jerry Brown signed AB2488 into law allowing licensed wineries to hold "instructional" wine tastings at farmers' markets.
Despite the town once being heralded as the "Clam Capitol of the World," clams are pretty scarce in Pismo Beach. With the exception of the three iconic cement sculptures welcoming people to the city, the clam heyday is a shell of its former shelf. Can the mighty mollusks make a comeback? At the request of the Central Coast Aquarium Society, Cal Poly professor Dr. Lisa Needles and her team looked into the decline of the local clam population and the possibility of restoring it. The last legal-sized clam, 4.5 inches, in the area was taken in 1993.
The 5Cities Homeless Coalition held it's3rd Annual Empty Bowl Community Luncheon event and the community turned out in droves to the tune of 800 people paying $25 to eat soup donated by restaurants in take-home handmade ceramic bowls made by local artists and served by city dignitaries, law enforcement officials and other well-known personalities. The event held in the parish hall at St. Patrick's Church brought in about $35,000 dollars.
Tourism dollars made a huge wave in the budget for the City of Pismo Beach. Last April the city raked in a record amount of $701,610 in transient occupancy tax (TOT) commonly known as a hotel bed tax. TOT contributes more than $6 million dollars annually to the city's general fund budget and the City Council voted to keep those dollars coming in strong by approving a county Tourism Marketing District.
Brian Higgins holds the keys to a new life. After two years of living with his mother after his wife passed away, he and his two young daughters recently moved into newly-built affordable residential housing in Arroyo Grande.
The Courtland Street Apartments is the fourth People's Self Help Housing (PSHH) project for the non-profit organization within the city. The 33-year-old Higgins, who lives in a two-story, three-bedroom one-and-a-half bath with his 5 and 7-year-old daughters, said he would never have been able to find a place to live if it hadn't been for PSHH.
November
The Arroyo Grande City Council approved a new noise ordinance that places restrictions on two long- established watering holes in the Village of Arroyo Grande. Despite pleas from the owners of Bill's Place and Ralph & Duane's, the Council voted 3-1 in favor of amendments to the current ordinance that would pull the plug on outdoor amplified music as well enforce a closed door policy after 10 p.m.
Following months of controversy, the Arroyo Grande City Council voted 4-0 last week to move forward with plans to hire a new city manager to replace Steve Adams, who announced his retirement in early October.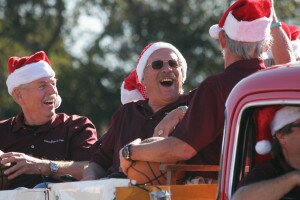 Voters in Arroyo Grande did not approve Measure C in favor of converting from general law to charter city status. Right around 65 percent of voters cast "no" votes. Streets in Grover Beach will undergo major repairs. Measure K, the $48 million bond measure for street rehabilitation, passed with 66.9 percent of voters in favor. Pismo Beach residents gave a big show of support (65.7 percent) for Measure H that requires voter approval for major development in Price Canyon. Folks also supported keeping a half-cent sales tax increase on the books established in 2008. A new 4th District Supervisor will step into Caren Ray's seat. Lynn Compton earned 53.86 percent of the votes to incumbent Ray's 45.91 percent.
In an almost unheard of turn of events, a write-in candidate for mayor has won the election over an incumbent with 16 years on the city council. Two weeks after the election, unofficial results from the County Elections Office show Jim Hill as the winner with a 95-vote advantage over incumbent Mayor Tony Ferrara. Hill got 3,090 votes to Ferrara's 2,995. Total write-in votes were 3,116 and all but 26 were for Hill.
It was another full house at a special Arroyo Grande City Council meeting held to determine the fate of employment for beleaguered City Manager Steve Adams.
In a closed session, the council reached a unanimous decision, with Mayor Tony Ferrara absent, to accept Adams' resignation and immediately put him on paid administrative leave. An interim city manager will fill in until a replacement is found.
December
It was nearly three weeks after voters headed to the poles that incumbent Pismo Beach Mayor Shelly Higginbotham received the news she was hoping to hear. In a nail-biting election race, Higginbotham was the victor by a mere two votes.
The Five Cities Fire Authority will once again have an official chief at the helm. Steve Lieberman, a former Grover Beach Mayor, will begin duties on Dec. 8.
The FCFA hasn't had an official chief/executive officer since Joel Aranaz left the position in May of 2013 after serving about 18 months. At that time former FCFA Chief Mike Hubert returned as the interim chief followed in that position by Battalion Chief Riki Heath.
If you were looking for a silver lining in the devastating drought that California is in the midst of, ECOSLO might have found one.The Environmental Center of San Luis Obispo, better known as ECOSLO, is taking advantage of low water levels in area lakes and removing debris along the expanding shorelines that were in most cases previously under water. The low water levels resulting from one of the most severe droughts recorded in state history provide a great opportunity to remove the litter before the rains wash it away. Cigarette butts were the most prevalent trash item found.
Newly-elected City Council members were officially sworn in last week while others said farewell as their terms came to an end. In Arroyo Grande, write-in mayoral candidate Jim Hill, incumbent Councilmember Tim Brown and newcomer Councilmember Barbara Harmon took the oath of office in front of a full house at the council chambers. In front of a standing-room-only crowd, Grover Beach Mayor John Shoals and rookie council members Barbara Nicolls and Miriam Shah were sworn in. In Pismo Beach, Shelly Higginbotham took the oath of office for her second term as mayor. Longtime councilmember Mary Ann Reiss and newcomer Sheila Blake were also sworn in as councilmembers.
Economic recovery is alive and well on the Central Coast according to the county's Economic Vitality Corporation. There are about 7,900 companies in San Luis Obispo County. Economic drivers include tourism, agriculture, education and government, according to the EVC. Two-thirds of the employers are in the private sector, 19 percent are government jobs versus 15 percent statewide and 11 percent of the population is self-employed, which is the highest rate of sole proprietorship in the state.
The Arroyo Grande City Council voted to end a longstanding tradition of beginning meetings with prayer. The council voted 3-2 in favor of a moment of silence in place of prayer.
"Our policy as it currently stands runs afoul of the current Supreme Court decision in the Town of Greece v. Galloway," City Attorney Tim Carmel said. "It allows a larger pool of groups to participate, pretty much unlimited. You can't restrict it based on beliefs or content."