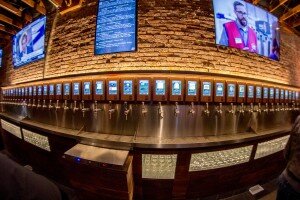 By Camas Frank ~
Blast 825 Taproom held their soft opening in February but it didn't take long for the college crowd and anyone interested in a quick pizza with one of 43 awesome beers to find the place.
Sharing a brick wall with historic "Bubble Gum Alley" the interior side is now where all the action is as patrons line up to try SLO's first self serve toys. No, don't jump behind the bar, that'll still get a guy kicked out of most anywhere, but if you fork over a valid drivers license and a credit card you can pour craft beer, wine, champagne, or kombucha for yourself thanks to a the iPourIt tap system. For the moment, just beer and cider.
"I've been around a long time and I know what this town likes," said Blast co-owner Dan Harper, "from what we've seen since we open they like this."
The technology isn't exactly a gimmick; it may be a novelty for a while but patrons soon get the hang of pouring their own. And if the place isn't too busy staff will still give you the traditional benefits of a bartender's experience in selection and proper pour technique.
The pizza's also come with suggested ready made topping combos, but everything at Blast 825 seems customizable to a degree. The beers can be tasted by the ounce or picked to compliment the perfect pizza, which in this case is defined by whichever of their ingredients you've picked yourself.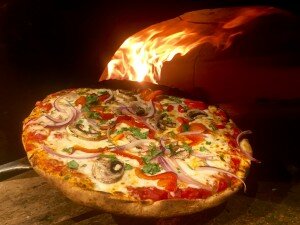 If Harper knows what SLO likes, its also a good idea to know thyself before ordering.
The food will be right up. While the beer comes out of systems run by RFID tags and android tablets, the pizza is made with 2,000-year-old technology, a Roman-style wood oven that blasts furnaces the dough at 825 degrees F.
In a way the Phoenix from the fire is a very apt analogy for Harper who ran Cabo San Luis on Foothill Road for over a decade before a fire damaged that business beyond repair in 2010. Its hard to lose a family business, but one thing that couldn't be taken from him was the experience. Cabo San Luis produced approximately a million fish tacos in 10 years and watching Blast 825 Taproom hit its stride is reminiscent of something he told the SLO City News in 2009.
"Oddly, we almost choked on our own success when we opened the restaurant in that we weren't ready to put out a thousand fish tacos and somehow we did, and then the next day we had to figure out how to do it again," he said at the time. "But now we're down the road and we know how to do that."
It appears he still does.